Hopefully, if you are currently certified to OHSAS 18001 or AS/NZS 4801, you will be aware that you have until 11th September 2021 to migrate your system to ISO 45001.
Businesses not transitioned to the new standard after that date, will find themselves without an accredited occupational health and safety management system.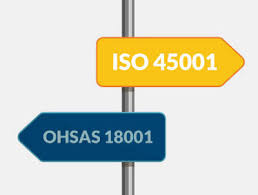 ISO 45001 was released in March 2018 to replace OHSAS 18001 and AS/NZS 4801. Businesses that were already certified to OHSAS 18001 and AS/NZS 4801 then were given 3 years to comply with the new standard, originally taking us to March 2021.
However, due to the challenges brought about by Covid-19, the IAF (International Accreditation Forum) extended the deadline to 11th September 2021.
The main goal of ISO 45001 is the reduction of workplace injuries, including promoting and protecting physical and mental health.
Some differences between ISO 45001 compared to OHSAS 18001 and AS/NZS 4801:
Easier integration with other standards
Focus on a process approach
Focus on Leadership and culture
But it has the same commitments of 18001 to regulatory compliance
If you haven't already migrated to the new ISO 45001, now is the time to start, to ensure you have plenty of time to;
Assess your current safety management system and
Address any areas that may be in need of improvement,
Get your team up to date

upskill their knowledge
ensure that they are able to contribute to the ongoing safety of your business.
The good news is that migration is not that hard.
Other information :