Wednesday 9th March @ 1pm NZ, 11am Sydney, 10am Brisbane, 8am Perth
What you need to know
New Zealand's Food Act 2014 is being enacted on the 1st of March 2016.
The Food Act 2014 takes a new approach for businesses in New Zealand to managing food safety. It promotes food safety by focusing on the processes of food production, not the premises where food is made.
In this webinar we will be joined by Dr Andrew Prest from Sustainability Systems. Dr Prest is one of New Zealand's leading experts in food safety.
This webinar will discuss two topics:
Food Act changes overview, and
Applying Lean thinking to food safety management
Join us for this free 1-hour webinar to find out everything you need to know.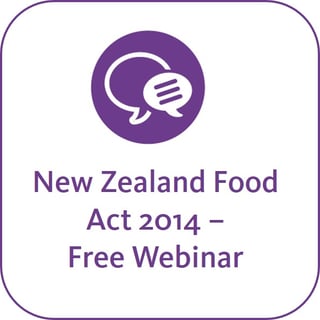 This will be an interactive session with question and answers session.
This webinar is for anyone involved in Food Safety.
To register, simply click here and we'll take care of the rest.