Part 12 – Clause 5.2 Policy
When building a house, what's the most important thing to get right - the walls? The windows? The roof? Of course, all of these aspects are indeed very important to the finished product. A house with shoddy walls, windows and roof isn't going to be comfortable to live in for very long. However, you can spend a lot of time and money sourcing the world's best-designed, highest-spec walls, windows and roofs, and still have them perform poorly because you haven't got your foundation right. It's the foundation that's of vital importance, because everything else is built upon it. Skimp on your foundation and your walls won't be plumb, your windows won't be weathertight and your roof will leak. Get your foundation wrong and you have created a cascade of future problems for yourself. On the other hand, get your foundation right, and you've given everything else the very best chance of succeeding.

The same goes for your Quality Management System (QMS). One of the first and most important documents you will create in a QMS is a Quality Policy. A Quality Policy is a document that is established, implemented and maintained by the top management of an organisation. The policy must align with the overall purpose and context of the organisation and be formally communicated to all staff.
The Quality Policy is the foundation of your whole system. It's what your whole system will be built on. The policy should clearly communicate the intentions and the strategic direction of the company. Its role is to create one clear vision so that everyone understands the objectives and strategic direction of the organisation. And it had better do this, because it's from the Quality Policy that everything else contained in the entire system will flow.
Here's an example of what I mean – this graphic displays a document structure. The Quality Policy is at the top of the documentation hierarchy because it's the foundation document from which everything else is created. Objectives will be created according to what the policy says. From these objectives high-level procedures will be created. These procedures will drive the creation of forms and records, which in turn will create the details for SOPs and so on. The Quality Policy is embedded in each and every document in the system.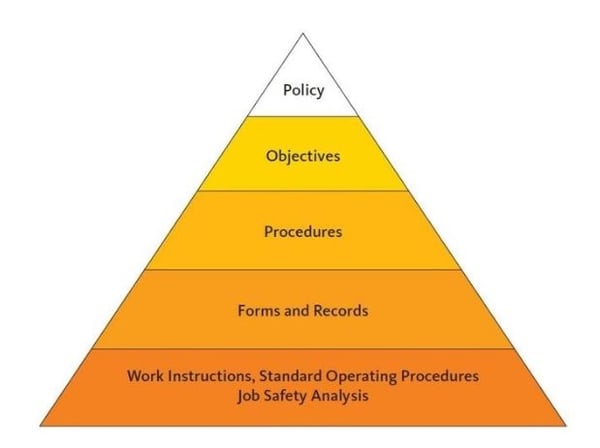 When you have a poor Quality Policy, your entire system is at risk. Organisations which find themselves with an ineffective Quality Policy will eventually find themselves with a poorly performing system as a whole. If your system is performing poorly, it could be because your Quality Policy is:
Poorly worded (too complex and lacking in clarity);
A process instead of a policy;
Not clearly communicated throughout the organisation, and/or
Not fully committed to by management.
Our Experience at Mango
Here at Mango, we asked for input into the policy from all employees of the company. We listened to our staff because we value them highly, and because we wanted to encourage them to get on board with our Quality Policy and to share the same desired vision. This was an effective strategy for us as it encouraged participation and enhanced the engagement of our staff. If you are part of a small organisation then I strongly encourage you to adopt a similar approach.
Upon completion of the Quality Policy many companies then disregard it, letting it gather dust behind the microwave in the break room. Unfortunately, this 'document and forget about it' attitude is far too common. Just like a successful relationship, commitment is key. The same goes for any policy. If staff commitment is invisible then so is the direction of your company.
Once your Quality Policy is finalised it is important that management clearly communicate it to your staff and make access to it easily available. At Mango, we sat down with our staff and went over our finalised policy to ensure everyone's understanding was correct. We then uploaded it into our Mango document management system so that our staff could access it easily at any time.
Takeaways
The policy does not need to be overly complicated. Simplicity is best.
The policy needs to be communicated, understood and applied within the organisation.
Management need to show commitment to the policy and be role models for the staff under them.
Each department needs to come up with their objectives and a framework as to how these will be met.
Commitment needs to be shown at all levels of the organisation.
Remember; "Out of sight, out of mind. In sight, goldmine."

View previous blogs in this series "How to Implement a QMS and Achieve ISO 9001 Certification":
How to Implement a QMS and Achieve ISO 9001 Certification - Part 1: Introduction
How to Implement a QMS and Achieve ISO 9001 Certification - Part 2: Customer Focus
How to Implement a QMS and Achieve ISO 9001 Certification - Part 3: Leadership
How to Implement a QMS and Achieve ISO 9001 Certification - Part 4: Engagement of People
How to Implement a QMS and Achieve ISO 9001 Certification - Part 5: Process Approach
How to Implement a QMS and Achieve ISO 9001 Certification - Part 6: Improvement
How to Implement a QMS and Achieve ISO 9001 Certification - Part 7: Evidence Based Decision Making
How to Implement a QMS and Achieve ISO 9001 Certification - Part 8: Relationship Management
How to Implement a QMS and Achieve ISO 9001 Certifiaction - Part 9: Clauses 0.1, 0.2, 0.3, 1, 2 and 3 of ISO 9001:2015
How to Implement a QMS and Achieve ISO 9001 Certification - Part 10: Clauses 4.1, 4.2, 4.3 and 4.4 – Context, Interested Parties, Scope, QMS
How to Implement a QMS and Achieve ISO 9001 Certification - Part 11: Clauses 5.1 Leadership and Commitment