Wednesday 22nd April - 9am Perth / 11am Sydney / 1pm Auckland
What you need to know
The quality management system standard, ISO 9001, is being revised and updated in 2015.
The new version - ISO 9001:2015 - will contain some significant changes that you need to be aware of.
Whilst a lot has been spoken about these changes in social media, now is the time to hear from the experts what they mean for your business.
Join us for this free 1-hour webinar to find out everything you need to know.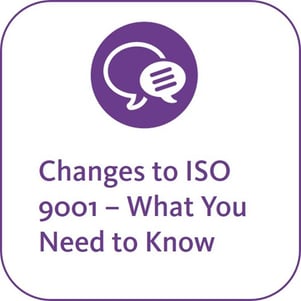 This webinar is ideal for those companies that already have ISO 9001 and those wanting to achieve certification in the near future.
During the webinar, Craig Thornton will be joined by Liz Murphy who will present what you need to know and how you can prepare for the changes to ISO 9001.
Liz is one of Australasia's leading quality consultants. She holds a BSc and a Post Grad Diploma in Quality Management. She is a blogger, consultant, auditor, trainer and trusted advisor.
Based in Sydney, NSW, Liz owns consultancy company, GrowEQ.
To register, simply click here and we'll take care of the rest.