Summary statistics - 2017/18
The British Government have just released some workplace health and safety statistics for the year 2017/18.
This data is based on RIDDOR - Reporting of Injuries, Diseases and Dangerous Occurrences Regulations 2013.
It makes for some really interesting reading that those in other countries should read and understand.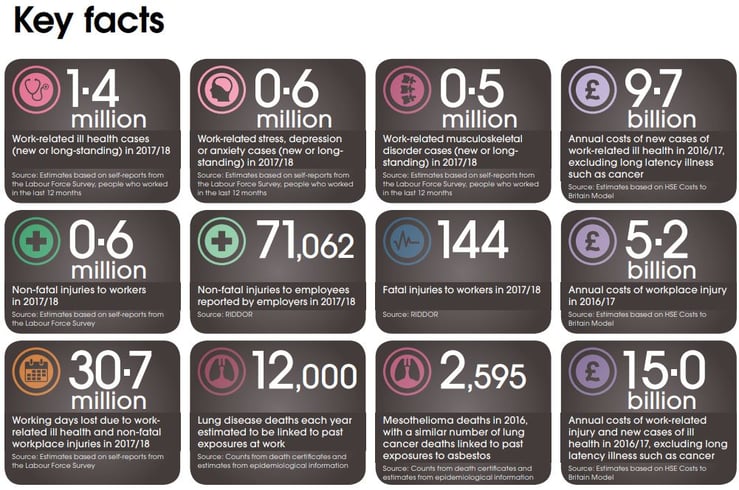 Low Rate of Fatalities
One stand-out stat was that Great Britain had 144 workplace fatalities.
This is eye-catching when you compare the number of fatalities in Great Britain with Australia and New Zealand.
In 2017, New Zealand had 50 workplace fatalities. In the same period Australia had 182 workplace fatalities.
When you think that by population Great Britain is 15x larger than New Zealand and 4x larger than Australia, then Great Britain should have had the equivalent of 2000 fatalities.
The report also notes that:
"The UK consistently has one of the lowest standardised rates of fatal injury across the EU, lower than other large economies and the EU average."
Rate of Non-fatal Injuries is Still Dropping
There were 555,000 non-fatal injuries over the 2017/18 period. It was estimated 25% of those injuries were absences over 7 days.
Unsurprisingly slips, trips or falls was the main cause of injury (31%). This cause is common across the world. When I was a Health and Safety Auditor for the New Zealand Government a few years ago, and visited over 200 companies, I noted at the time that slips, trips and fall was by far the most common cause of incidents and injuries.
Here's an idea - discuss how you control slips, trips or falls in your next health and safety committee meeting. See what the team comes up with.
Since 2001/02 there has been a steady downward trend in workplace accidents per 100,000 workers. This is a really positive result for Great Britain.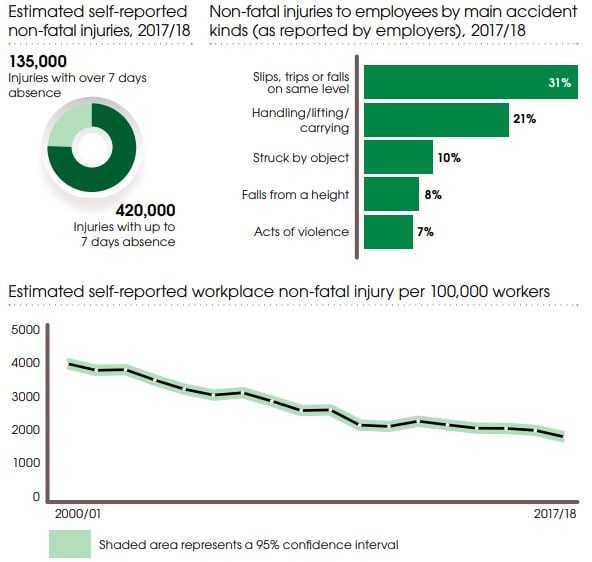 Work Related Stress, Depression and Anxiety Rates on the Rise
Another interesting statistic is the reporting of work-related stress, depression and anxiety rates have increased over recent years.
In addition working days lost due to work-related stress, depression and anxiety rates account for 57% of all working days lost due to ill health. Other types of ill health include occupational lung disease and work-related musculo-skeletal disorders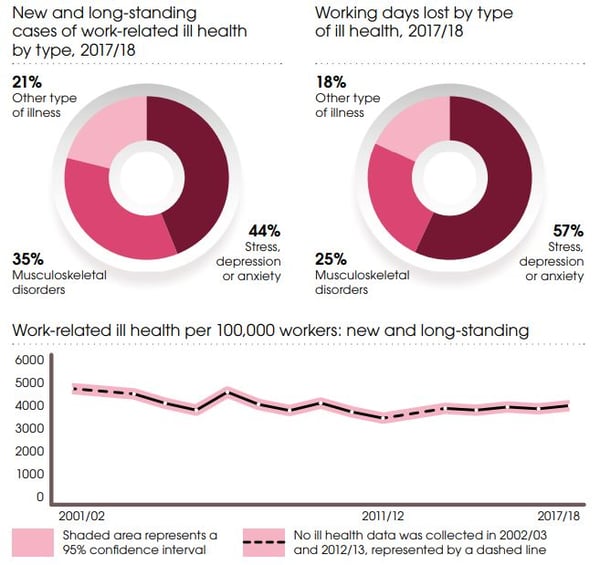 Takeaways
You should research the best countries in the world and understand what they do right.
Research the UK's Heath and Safety Executive website to learn about how to improve your Workplace Health and Safety practices.
Check out the controls the Heath and Safety Executive have for slips, trips and falls.
Discuss these controls with your staff and at your next Health and Safety Committee meeting.