The Survey Results Are Out!
Last month we asked you whether Conformity Assessment Bodies (more commonly known as Certification Bodies) who promote software are overstepping the mark or simply keeping up with the times.
We asked this because of the apparent conflict between certain CB's doing just that and the standards that they must adhere to.
Interestingly whilst our survey was running, SAI Global – one of biggest CB's – announced that it was acquiring compliance software company, Compliance 360.
As we pointed out in our original blog post, such practice seems to contravene the requirement for the CB to remain independent and impartial. The standard in question here is ISO/IEC 17021:2011 Conformity assessment - requirements for bodies providing audit and certification of management systems.
Anyway, back to the survey where we asked 3 simple questions …
Is it OK for CB's to promote the benefits of software over more manual, paper-based systems?
Is it OK for CB's to strategically-align themselves with a compliance management software vendor?
Is it OK for CB's to offer their own compliance management software solution?
Survey Results
As you'll see from the results below, whilst there was a fairly even split regarding the first question, the results for questions 2 & 3 were clear-cut.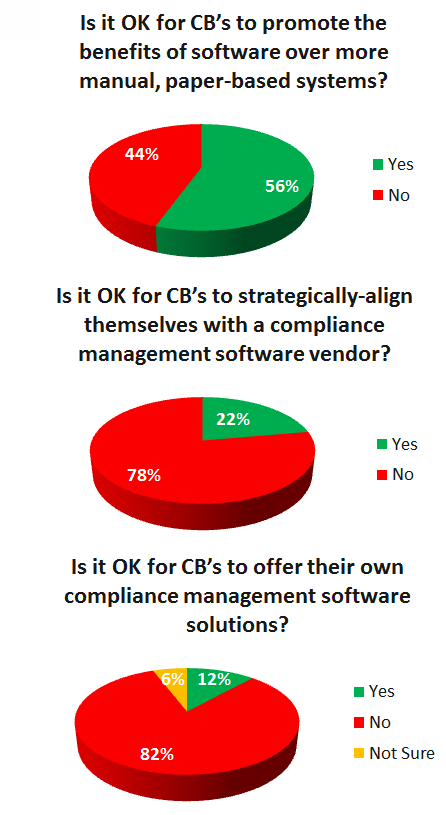 A Word of Thanks
Thank you to all of you who took part in the survey – we got over 250 responses and some very insightful comments. This is clearly a hot topic – and one that we're probably going to hear a lot more about in the future!