Food Standards Australia New Zealand have just released their Annual Report.
One aspect we always look at closely in these annual reports is food recalls. In my opinion a food recall is a good measure that the food safety management system has failed.
Numbers and Reasons for a Food Recall
Let's start with the numbers.
There were 81 food recalls reported from 1 July 2017 to 30 June 2018.
For each food recall Food Standards Australia New Zealand requests a recall report asking businesses "what caused the issue to occur?". The results are really interesting: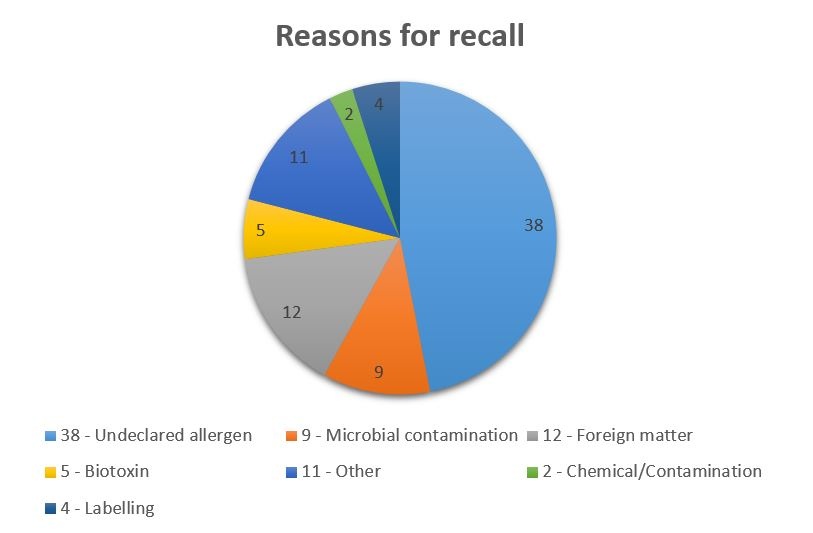 Almost 50% of recalls were due to undeclared allergens.
Having undeclared allergens is really concerning. Allergens can be fatal. For businesses to not disclose an allergen should worry the public.
From the report, the main reasons why allergen related issues occur were:
Lack of knowledge of labelled requirements.
Packaging errors.
Supplier verification issues - for example, the raw ingredient contained an allergen and that information was not passed on to the manufacturer.
Cross-contamination either of a raw ingredient, or during the final production process.
For these issues businesses, that had food recalls, implemented the following corrective actions:
Education and training for staff
Amended processes and procedures
Emended product packaging
You need to look at these corrective actions and get to work on those as soon as you can.
To help ensure the correct labelling and food safety practices are followed, Food Standards Australia New Zealand have created a Food Safety Hub. This provides a resource centre where food businesses can access all necessary information that will help them on their food safety journey.
If you are a food manufacturer or food service operator this is a great resource you should use.
Takeaways
Read this important annual report.
Use the Food Safety Hub resource.
Educate your staff on allergens.
Conduct and audit on your food safety system and look for places where allergens are found.